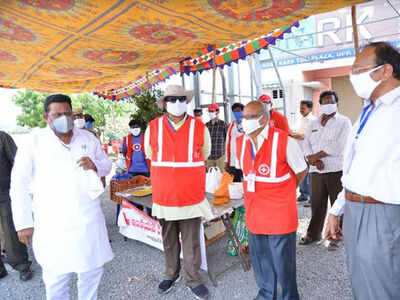 GUNTUR: Showering praises on Red Cross volunteers for rendering self-less services to the migrant workers going by foot on the national highway, housing minister Cherukuvada Ranganatha Raju has said that Red cross Guntur unit has been extending invaluable services during the lockdown.
Ranganatha Raju, who is also district-in-charge minister, visited the Red Cross food stall near Kaja toll plaza on NH near Mangalagiri while on his way to Guntur to attend the district review committee meeting on Wednesday. District Red cross vice-chairman Penmatsa Ramachandra Raju explained the activities initiated by them for the facility of the migrant workers to the housing minister. Speaking to the volunteers, minister said that they were noble souls as they were spending their precious time to provide relief to the workers.
He said that it was heartening to see that red cross itself is providing food, water, butter milk, foot wear to the workers going by the foot at the relief centre. He said that he had been receiving reports about the red cross services at quarantine centres, Government General Hospital (GGH) since the announcement of lockdown.
He said that the presence of red cross volunteers had tremendously reduced the burden on the government staff who are also relentlessly working to fight against the covid-19. He said that red cross is also providing medicines to the needy in the entire city and providing transport in the medical emergencies.
Red cross senior functionaries GYN Babu, SVS Lakshminarayana, Jupudi Rangaraju were also present.
Source link