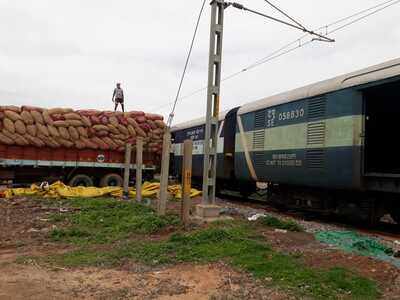 GUNTUR: In what could be a major development, Guntur Railway Division has operated direct freight service to Bangladesh. The special cargo express with parcel vans packed with chilli stocks left Reddipalem cargo point near New Guntur railway station on Thursday. Indian railways clinched the deal with Bangladesh thanks to the proactive role played by the senior officials in railway board and Indian embassy in Dhaka. Although, Guntur division operated several cargo trains till the border points to transport the agriculture commodities to Bangladesh in the past, it is the first time in the history for the railways to operate direct train to the neighbouring nation.
"This is the first time-tabled cargo express to be operated from Guntur to Benapole in Bangladesh," Divisional Railway Manager (DRM) Mohan Raja told 'TOI.' He said that SCR GM Gajanan Mallya, Anita Barik (advisor, railways) in Indian high commission in Bangladesh have played key role in getting the clearances.
Mohan Raja said that they realized that Guntur as an epicenter of production, aggregation and processing of chillies and other spices, could be a great opportunity to make good business. He said that the booming cultivation of these products is sustained with an excellent ecosystem of mirchi-yard, processing centres and a chain of cold storage facilities with deep export networks. However, they found that the traders have been finding it difficult to move the stocks by rail since these products are high in volume and low in density, said DRM.
With a view to resolve the bottle-necks, DRM constituted a high-level delegation headed by senior DCM D Narendra Varma, senior DOM Rambabu, who swung into action by conducting a series of meetings with traders, aggregators. Considering the high demand for export of chillies and other spices like turmeric, ginger, onions, cumin seeds to Bangladesh, a proposal has been moved for running a Time Tabled Parcel Cargo Express from Guntur to Benapole in Bangladesh, said Mohan Raja. He said that special cargo express a composition of 16 parcel vans and carrying capacity of 384 tons left for Benapole in Bangladesh on Thursday. He said that the Guntur division pocketed Rs. 17.6 lakhs through special parcel express.
Source link