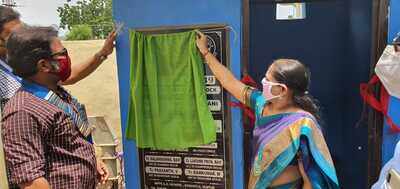 GUNTUR: District Educational Officer (DEO) RS Ganga Bhavani has said that presence of clean and functional washrooms play crucial role in bringing the girls back to the schools. She said that many girl students would drop out of the schools chiefly due to the absence of the washrooms. DEO inaugurated the washroom block constructed by Guntur Round Table (GRT-86) at Mandal Parishad school in Gorantla village on the outskirts of the city on Monday.
Speaking on the occasion, DEO complimented the efforts of GRT executives in getting the washroom block ready in the government school. She said that the state government launched renovation of all the public schools under Naadu-Nedu scheme only to prevent the dropouts from the economically backward sections.
GRT president Ravi Balakrishna said that several of their members were keen to come up with similar philanthropic activities. He said that the support of the local administration was required to take up new projects. He said that Tulabandhula Harikishan, Madhusmitha and Padma Pujitha Veerendra provided the financial assistance to construct the washroom in the school. Bommidala Sriram, Prasanth, Ram Kumar, Rajesh and others were also present.
Source link